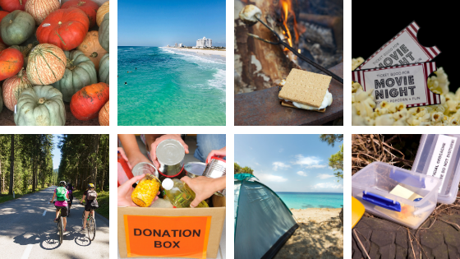 Fall on the Emerald Coast is such a wonderful time of year! We encourage you to take some time to make this a fall to remember! We've compiled a fall bucket list to help you have an amazing fall and we're happy to say that these activities cost little or no money and most can fit into even the busiest schedule.
1. RIDE A BIKE. Ride through your neighborhood or pack up the bikes and head to a bike trail or one of the many state parks in NW Florida. Topsail State Park is especially bike friendly.
2. FAMILY MOVIE NIGHT. Watch a family-friendly movie under the stars at any one of these Emerald Coast venues: The Hub 30A, The Island Ft. Walton Destin by Hotel RL, Uptown Station in Ft Walton, Movies on the field in Gulf Breeze. If you prefer to stay in, whip up an autumn mix that is sure to please and put on a family-friendly feature or shorter films. If you have children at home, try out The Gruffalo and The Gruffalo's Child, both are based on children's books and are available on Amazon. For a quick and yummy autumn snack mix, use microwave homestyle popcorn, mini pretzel sticks, and candy corn – just mix and enjoy.
3. VISIT THE BEACH. Take a leisurely stroll on the nearest fishing pier – keep an eye out for schools of fish, sea turtles, dolphins and other sea life. Check it out: The pier at Navarre Beach is the longest in Florida at 1,545 ft long and 30 ft above the water.
4. HOST IT. Host a chili cook-off, mac and cheese bake-off or pie contest at your home or community clubhouse. Invite friends and neighbors and prepare for an evening of fun and fellowship. Along with an entry fee that will go towards prize for best and most original entry, consider asking each attendee to bring along a non-perishable food item or a small cash donation for a local food pantry.
5. TREAT A NEIGHBOR OR SURPRISE A FRIEND with a fall treat such as these cream cheese pumpkin muffins or give a simple gift such as a fancy pumpkin adorned with a gingham bow.
6. SAY CHEESE. Take family photos for Thanksgiving or Christmas Cards. Consider a beautiful beach setting, pumpkin patch, Eden Gardens, a downtown area, or the front porch of your home.
7. GO CAMPING. Fall is the perfect time to tent camp! If you like the idea of camping and don't have your own gear, don't be shy about asking friends or family to borrow a tent. If you're a novice camper plan on going on a one-night trip for starters and do a trial run with tent set up at home.
8. GATHER ROUND THE FIRE. With a raised firepit you can build a fire to gather around with family, neighbors or friends. What's a fire without s'mores??? Provide sticks, marshmallows, graham crackers, and Hershey's chocolate bars. If you're feeling adventurous, sub Reese's Peanut Butter cups for chocolate bars or use just use fudge stripe cookies and marshmallows for a different kind of s'more.
9. WALK THE BEACH. Connect with nature and take a long walk on the beach. Help keep the beaches clean and protect our sea life by picking up any trash you find along the way.
10. GEOCACHING is an outdoor treasure hunting game using GPS-enabled devices. Participants navigate to a specific set of GPS coordinates and then attempt to find the geocache (container) hidden at that location. It's a fun and challenging way to explore your area. Here is a link to help you get started. Geocaching is a fun adventure for children and adults!
If you try out some or all of these ideas, we'd love to see some photos from your experiences! Connect with us on Facebook, Instagram, or Twitter and use the hastags #RobBrooksRealty #LiveECFL